The Conversion Conundrum: Why Obsolete Office Buildings Can't Simply Transform Overnight
It is no secret that the office market is undergoing a transition of epic proportion. The old paradigms of office spaces and their value are being reevaluated. Office supply and demand have been drastically out of balance as a result of this transition, with forecasts showing a surplus of 330 million square feet (msf) of unoccupied space by the end of the decade. The conversion of this surplus supply into other purposes, such as multi-family, life sciences, and medical, is a common response, but I'm here to tell you that it's not that simple and frequently infeasible.
Trends such as hybrid work, workplace densification and a preference for settings that exemplify modernism, sustainability, and offer robust in-person experiences were already in motion prior to the pandemic. The pandemic merely acted as a catalyst, expediting these preferences. However, an overwhelming 70% of the nation's office buildings, having been constructed before 1990, fail to meet these new benchmarks. The repercussions of this disparity are manifesting as these properties approach their lease expirations and loans mature, resulting in competitive obsolescence. This is not meant to be the office industry's eulogy. Do you recall the purported decline of retail in the aftermath of the e-commerce boom? Retail persisted against all odds, and I think office properties will do the same.
While the majority of conversations center on the advantages of converting offices into residential or more specialized uses like industrial, life sciences, or healthcare, there is an important factor to consider—Office conversions are complex, multi-layered projects. For such modifications, only a small percentage of the current supply is an appropriate candidate.
Office buildings can be divided into three categories: The Top, The Middle, and The Bottom. 15% of office space is the crème de la crème, which consists of first-rate workplaces guaranteed to attract high-end clients. The vast middle, covering approximately 60% of the inventory, presents a spectrum—ranging from adequate spaces to those desperately requiring rejuvenation. The last segment, representing the older, more challenging properties, demands significant rejuvenation or a complete overhaul.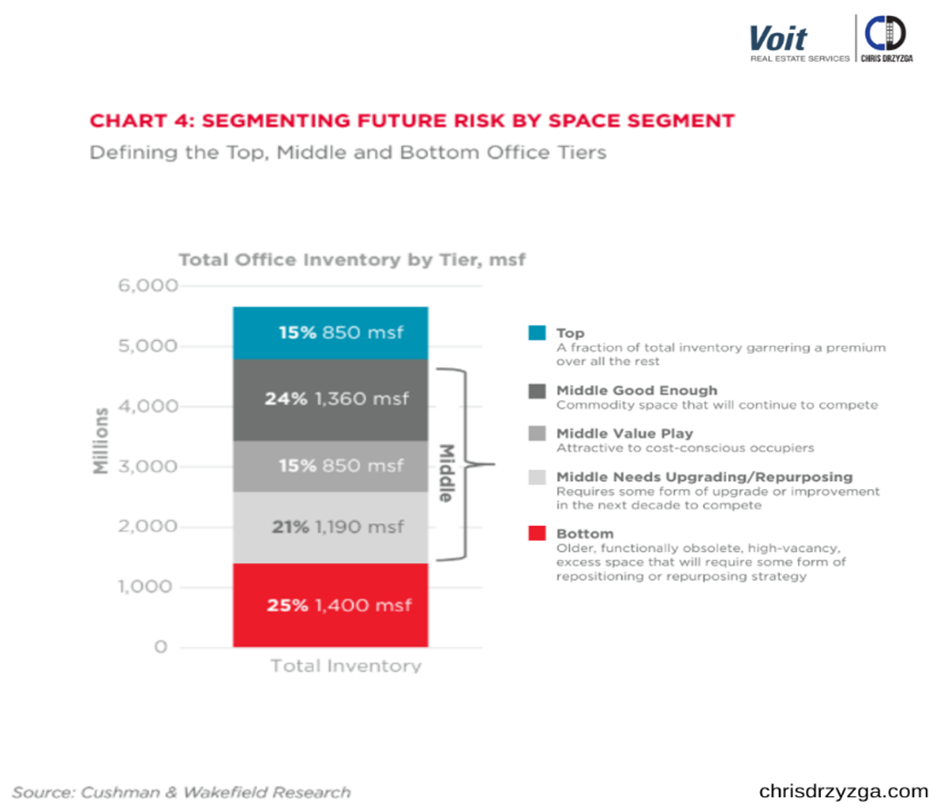 When you identify a site in the lower half of this spectrum you need to do a deep dive on the following items:
Architectural Characteristics: The level of architectural modification required to draw tenants is one of the conversion's most important factors to consider. Challenges include the physical structure's shape, façade, ceiling heights, floorplates & location of windows, just to name a few.
Transportation Infrastructure: Many tenants look for a property along key transportation routes and near airports, universities, and housing.
Talent Pool: Proximity to specialized talent will drive decision-making around what type of uses are viable.
Zoning: To give developers and investors the appropriate permits and approvals, the underlying zoning frequently needs to be altered at the municipal level.
Structural Limitations: load capacities throughout each floor and even the roof where various mechanical equipment is housed limit the types of uses. A buildings floor-to-floor heights are also important. 13'+ clearance is ideal, anything else is limiting.
HVAC / Plumbing / Electrical Systems: important considerations related to normal and backup requirements.
Retrofit Costs: cost is often the biggest hurdle with estimates ranging from $100/sf to $700/sf depending on the project.
Acquisition Basis: if your basis is low enough, conversions can remain competitive with ground-up construction. We will likely need to see much more pain in the sector before reluctant sellers shift their pricing expectations.
If you make it through this checklist and still intend to proceed, developers and investors will need cooperation from local governmental bodies. The good news is that some are making proactive moves by providing financial incentives, revising zoning codes, expediting the bureaucratic nuances of permitting and championing innovative public-private partnerships.
Initiatives are underway to craft incentive programs promoting residential conversions, aiming to breathe life back into communities. A prime example is the 421-G Program, which pioneered the metamorphosis of an office district in Manhattan into a lively 24/7 micro-market.
While the office sector's future might appear clouded with uncertainty, it's by no means destined for obsolescence. With the correct combination of inventiveness, vision, and a commitment to understanding market shifts, office properties can continue to be dynamic, relevant, and essential components of our urban marketplaces.
Did You Find This of Value? Make a Tip:
Bitcoin: bc1qpvm8pyflhvp3laxllsm98kskynas7eclh07dfz